We intend to become the agency of choice for any institution committed to climate action because we view climate change as society's biggest crisis that requires urgent action. Determined to walk the talk, we created a "Trusted Transition" that guides us and our genuinely committed clients to action and transformation built on a foundation of trusted communications. We are embracing operating principles and setting credible short- and long-term net-zero ambitions and goals, and we have asked 41 of our suppliers to submit their climate-related information to CDP. We are taking meaningful action to meet those ambitions, including ensuring our client work is consistent with our climate ambitions and values and our communications with employees, clients, communities and other stakeholders is honest and transparent.

Our Environmental Footprint
We took significant actions in FY22 to manage our environmental footprint as we strive to achieve ambitious goals that benefit our communities and our planet. These include:
Establishing objectives for setting science-based emission-reduction targets and for reaching net zero carbon emissions by FY2050.
Submitting our near-term companywide emissions reduction targets to SBTi that call for reducing Scopes 1 and 2 greenhouse gas emissions by 80% and Scope 3 emissions by 55%, both by 2030, from a CY2019 baseline.
Our greenhouse gas emissions increased 20% in FY21, primarily because of purchased goods and services. Edelman's current methodology to calculate emissions from suppliers uses a spend-based approach meaning emissions from CY20 to CY21 for purchased goods and services increased due to an increased spend. To improve this methodology and to better understand what suppliers are doing in this space, Edelman is looking to improve its GHG methodology.
Seeking a 50% reduction in our global waste footprint by 2025. During the pandemic, we were unable to conduct waste audits, but they remain a continued focus. One objective has been to eliminate single-use, non-PET plastics from all offices by the end of 2024, and at the end of FY22, 82% had eliminated them.
Shrinking Our Offices' Environmental Footprint: Our Chicago Start
Among our Climate goals is to shrink the environmental footprint of our offices. The opening of our new Chicago office in November offers the first Future of Work Office and a major element of our emerging Edelman Office Playbook.
The new Chicago location is a vintage, block-long, 16-story loft-style building whose renovation earned it a LEED Gold certification for excellence in sustainability and conservation efforts. For Edelman, the one-and-a-half floors the office occupies is just about half of the previous five floors of space in the Aon Building. The hybrid workplace also delivers more natural light, waste reduction, "green" sustainable furniture, health amenities – and even a rooftop area.
The move diverted hundreds of tons of surplus supplies and equipment from landfills for reuse in schools, a homeless shelter and for other recipients.
Alice Hogueisson, Director of Facilities and Real Estate, and Mike Lovell, Chicago Director of Facilities, oversaw the planning and move of 600 employees during COVID-19. Here are key features and efficiencies of the new office:
Workspaces have been reduced to 324, reflecting the hybrid work environment, and employees reserve a workspace using a scheduling system. But the office can accommodate up to 800 people with the seating available on both floors.
A long corridor that runs through the center of each floor easily connects to "neighborhoods" of practices, collaboration zones, team and meeting rooms, cafes, and other areas that provide a more comfortable environment to create distinct experiences for individuals and teams.
Highly efficient LED lighting and lighting controls are used (and prompted an $8,000 utility credit) and natural light is abundant in the open office spaces.
Designated Edelman space on the rooftop floor adds an outdoor dimension that employees appreciate.
An emphasis on health and well-being includes touchless kitchen faucets, at least 60% of food and beverage options that are healthy choices, and options for Wellness rooms and prayer and reflection areas.
The office is near Chicago's two main commuter stations, with most employees using public transportation or walk or bike.
As employees spend more time in the office, Chicago leaders will assess what works best while also fulfilling their environmental and health and well-being missions. Next up is the London office move in FY23 – and Chicago's example already has proven valuable for it.
Edelman believes that climate change is the biggest crisis we face as a society. We recognize that urgent action is needed to mitigate the most dangerous impacts of climate change on both people and the planet. This requires the rapid reduction of greenhouse gas emissions and an orderly global transition to a net-zero-carbon economy.
Our aim is to be the agency of choice for any institution committed to climate action. To guide us on this journey, we established the following principles:
Work with those committed to accelerating action. We have enormous potential to accelerate change through counsel, support and challenge of our clients. We will lean in strongly to the task at hand.
Put science and facts first. We seek a better-informed public on climate issues so that we enable swift and equitable action. We will ONLY be led by the science and base our work on objective, factual and substantiated data.
Advance best practices and standards. Communications has a critical role in addressing the climate emergency. We will work collectively across our industry to develop best practices on climate communications.
Ensure inclusivity. We will bring our employees, across levels and diverse voices, into a discussion on our work on climate change. We will listen and be respectful of the full range of differing views. That means listening to everyone, including our critics.
Focus on a just transition. Climate change is about systems change. We need to focus on how climate change affects people, livelihoods and communities. Part of this is to work towards retraining for those impacted by energy transition, but also emergency preparation for those at risk of flooding and other natural disasters.
Hold ourselves accountable. We hold ourselves and our clients accountable to continual progress, with transparency on results through regular reporting.
Based on these principles, we took the following actions:
Engaged our clients: We reviewed our portfolio and had substantive conversations with clients about our principles, the commitments we have made and the actions we are taking. We remain committed to working with clients who are working toward a net-zero future. We have incorporated climate principles into our client acceptance process, focusing on clients in emission-intensive industries. We have decided not to pursue certain new opportunities and established ongoing follow-up and review of some assignments.
Deepened our knowledge: Created mandatory climate training for all staff in partnership with Columbia University's Climate School.
Invested in our climate change expertise: Robert Casamento, founding director of the World Economic Forum's Global Climate Change Initiatives, was named our first-ever global head of Climate, and we continued to build our team of climate and sustainability teams.
Worked to set the bar on high-trust communications: In partnership with Systemiq, created a "Trusted Transition," where we guide ourselves and genuinely committed clients to action and transformation, built on a foundation of trusted communication. This Trusted Transition looks different by sector, but for each organization it involves:

Setting credible long and short-term net-zero ambitions and goals
Taking meaningful action to meet those ambitions and transform its business
Ensuring honest and transparent communication with all stakeholders, from employees to communities, consumers to investors.

Established independent expertise: Created the independent council of climate experts, an advisory board which will bolster our expertise, advance the firm's climate strategies and practices, and support efforts to shape global climate communications for the next decade.
Ensured accountability: Established a board-level committee to oversee our climate progress.
This is just the start. The real work is ahead of us.
Global emissions continue to rise when we need them to fall. Global geopolitics is creating more division when we need more collaboration. Climate ambitions and actions need to aim high and go fast. As a collective world, we are still aiming low and going slow. Transitions and transformation must accelerate and scale.
We have a critical role to play. Collective action is critical to driving change both internally and externally, and that change begins with each of us.
While Earth Day was April 22, Edelman held a week of activities to underscore CEO Richard Edelman's assertion that we have a "vital role to play – using communications to drive action, lifestyle changes and cross-industry solutions."
John Edelman, our citizenship program leader, kicked off the week with a message, and Tuesday featured a presentation on climate change and communities. Employees participated in a workplace challenge on Wednesday by communicating "I go green…" and showing how they go green and tagging colleagues to join. Citizenship Day on Thursday featured offices participating in various volunteer activities and initiatives.
Individual offices held several Earth Day and Earth Week-related activities. Among them, the Tokyo office worked with UMINARI, a youth-driven NGO that works to eliminate marine plastics and participated in a beach clean-up. Edelman Vancouver partnered with the Vancouver Aquarium and Stanley Park to protect the city's shorelines with clean-ups. And the Western U.S. offices' Green Teams collaborated on an Earth Day panel discussion on food sovereignty.
Science Based Targets Commitment
As the world transitions to a zero-carbon economy to limit global warming to 1.5°C above pre-industrial levels, Edelman is working with the Science Based Targets initiative (SBTi) to achieve our own trusted transition.
The SBTi has approved Edelman's near-term science-based emissions reduction target. Edelman has also committed to set long-term emissions reduction targets with the SBTi in line with reaching net-zero by 2050' We are continuing to track and reduce our emissions from our operations, including our office space, travel, and supply chain.
For our Near-Term SBTi, we submitted to SBTi a target of reducing Scopes 1 and 2 greenhouse gas emissions by 80% by 2030 from a CY2019 baseline by transitioning to 100% renewable electricity, reducing natural gas consumption, and switching existing vehicles to electric. For Scope 3 emissions, we set a target of reducing these emissions by 55% by 2030 from a CY2019 baseline by focusing on engaging our supply chain to support them to decarbonize and by reducing our emissions from business travel.
At the end of FY22, over 3,300 companies have committed to act on climate change through SBTi, over 1,800 have set near-term targets, and over 1,500 have set net-zero targets. For more information on the Science Based Targets initiative, please visit its website here.
As we transition toward a zero-carbon future, we are striving to reduce our environmental footprint by setting emissions goals, reviewing our supply chain, and focusing on green office operations, minimizing business air travel, and supporting the greening of grids worldwide.
Despite a 52.9% decline in Scope 1 and 2 emissions, Edelman's total greenhouse gas emissions actually increased 20% in calendar 2021 versus 2020 because Scope 3 emissions – which account for nearly 99% of emissions, increased significantly.
Scope 1 emissions, which are direct emissions caused by our activities, account for slightly over 1% of our global carbon footprint. In calendar 2021, scope 1 emissions decreased 5%, primarily from a continued reduction in natural gas consumption.
Scope 2 emissions, primarily electricity use, account for just 0.1% of our overall carbon footprint. In addition to reducing our electricity consumption, we cover 100% of our electricity consumption for all our global offices with Energy Attribute Certificates. We work with Schneider Electric to purchase quality renewable energy credits, international renewable energy credits, and guarantees of origin in the regions where our electricity is produced or as close as possible.
Scope 3 emissions, indirect emissions outside of Edelman's direct control, climbed 21% from calendar 2020, primarily because of a 28% rise in estimated emissions from purchased goods and services. Business air travel emissions fell by 59%, driven mostly by a pandemic-induced drop in travel. It will prove critical to see how Scope 3 emissions are affected as "business-as-usual" returns following the pandemic.
All of Edelman's Scope 1, 2, and 3 emissions data has been verified and assured for 2021. SCS Global Services has verified our emissions for CY21, certifying that we have genuinely reduced our carbon emissions and commit to making further reductions year on year.
The improvement in data quality will be vital, especially in determining emissions from purchased goods and services. Only eight of our suppliers submitted emissions data to CDP while out top 1,000 suppliers account for 84% of our greenhouse gas emissions.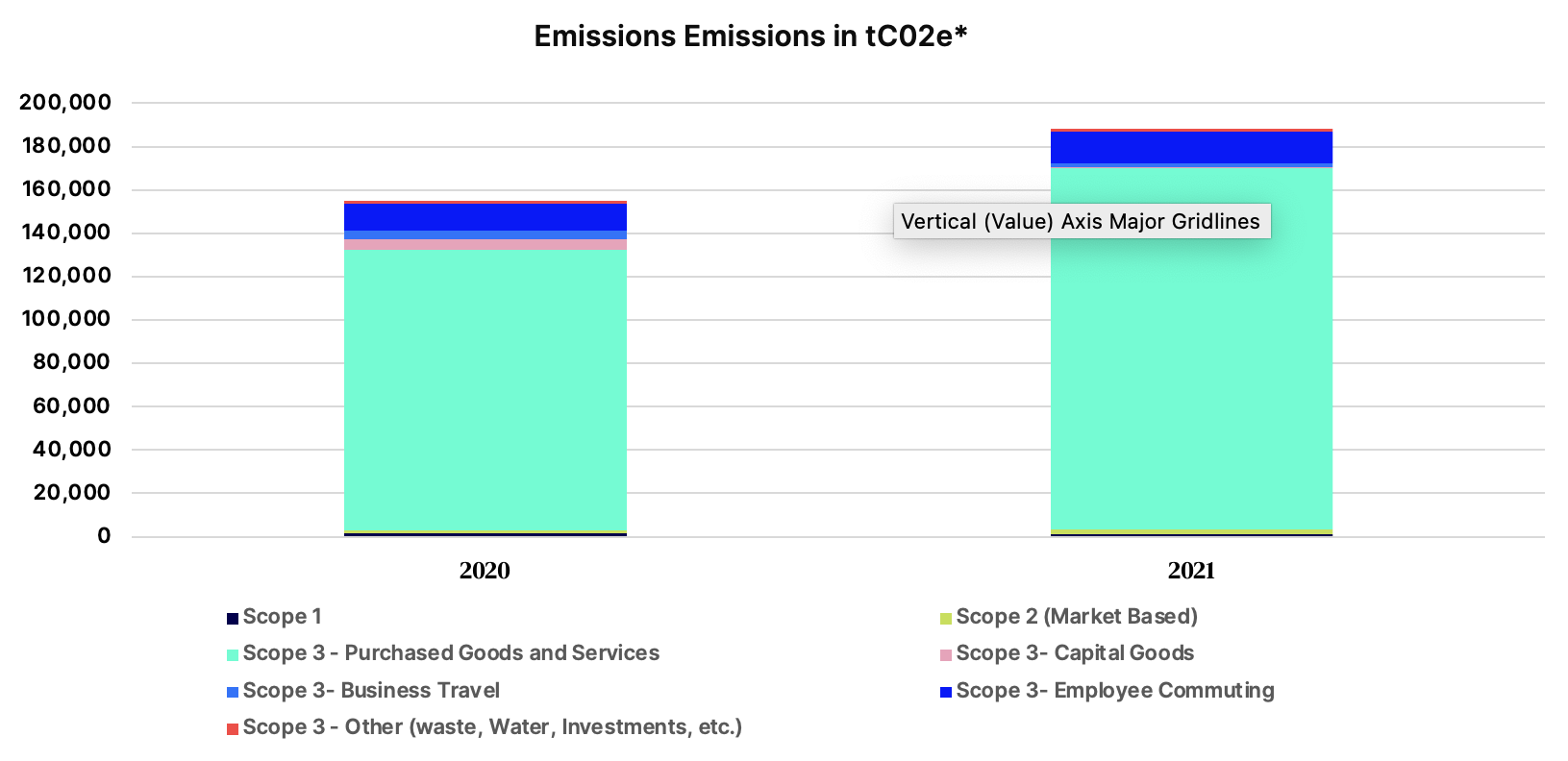 We completed our eighth CDP disclosure in FY22 for the nonprofit organization that runs the global disclosure system for managing members' environmental impacts. We completed the disclosure – which gathers environmental and climate change data from companies worldwide to measure their environmental impact – at the behest of our clients.
Our FY22 CDP score was not available at the time of our report's publication, but we achieved a "B" rating in FY21. This matched our previous year's rating and placed us in the top third of reporting companies in our industry and well above the North American regional average. Our disclosure is available on the CDP website.
We also listed 41 of our suppliers to CDP, and by the fiscal year's end, 11 had submitted their climate change questionnaire.
We have established a procurement function that enables us to continue moving toward a more centralized procurement operation that will embed responsible procurement decision-making into our core buying processes. That objective will accelerate with the appointment of our first Director Global Procurement Strategy, Ryan Burke, who has been Canada CFO.
We established a goal to incorporate sustainability into the selection process for our business partners. We use Eco Vadis and CDP platforms to hold our business partners accountable.
EcoVadis is a global provider of business sustainability ratings, and we use its platform. We joined CDP supply chain program, a not-for-profit organization that runs the global disclosure system for companies and others to manage their environmental impacts, to obtain sustainability and environmental information from our suppliers.
Our supply chain primarily comprises other professional services firms - such as video production, influencer management, and media suppliers – that we often use to deliver client work and office product, technology, and service providers for our offices and staff. Much of our spending in large procurement categories is centralized, such as IT equipment and real estate, with smaller procurement decisions still being made by local offices at point of purchase.
We have been focusing on enhancing our data analysis and reporting capabilities, and that is aided by a vendor management system in the U.S. and Canada that lets us track spending with diverse suppliers, screen suppliers based on citizenship qualities, and gain an overall better understanding of how we spend and where we can make a greater impact. This data helps us drive new processes and targets and helps us measure our progress against our goals.
Since 2017, we have had a supplier diversity program that seeks to increase our spending with racial and ethnic minority-owned businesses as well as those owned by women, LGBTQIA+ persons, individuals with disabilities, and the veteran community. The program also supports small businesses in historically underutilized business zones, or HUB-zones, in the U.S.
We established a 10% spending goal with diverse U.S. suppliers in priority categories in FY18 and achieved 16.9% in FY19. But the pandemic impacted our progress. We are now refocusing our efforts, assisted by the establishment of a procurement function and our new Director of Global Procurement Strategy. In addition, we have also established a working group, plan to outreach to suppliers in priority categories, and will have updated policies effective January 2023.
In FY22, we continued to analyze our spending, sorting it out by categories based on the product or service purchased or a supplier's business. This is helping us determine how much we spend with diverse suppliers in various areas of our business and understand the maximum potential for diverse spending for each category.
This analysis will enable us to set more specific spending targets and communicate our efforts and progress. Our goal has been to achieve at least 15% addressable spend with diverse suppliers in the U.S. by the end of 2024, and we have adjusted that timetable to 2025. In FY22, we achieved a 6.2% spend with diverse businesses in priority categories in the U.S.
As part of Edelman's sustainable procurement strategy, we completed Phase 4 of our supplier engagement program in FY22. Edelman worked with EcoVadis, a third-party platform that evaluates and rates sustainability performance, to assess our IT, human resources, and benefits suppliers as well as high spend suppliers in the U.S., Europe, and China.
Of the 307 suppliers invited, 84 completed the assessment, accounting for a 29% response rate. This response rate is lower than the previously achieved response rate but is up from 28% in 2020. In FY22, we appointed a Director Global Procurement Strategy to help centralize procurement and build upon our sustainable procurement strategy for FY23.
Emissions Certification, Verification and Assurance

All of Edelman's scope 1, 2, and 3 emissions data has been verified and assured for 2021. SCS Global Services has conducted verification activities in conformance with ISO 14064-3: 2019.
See more.