Letter from
Richard Edelman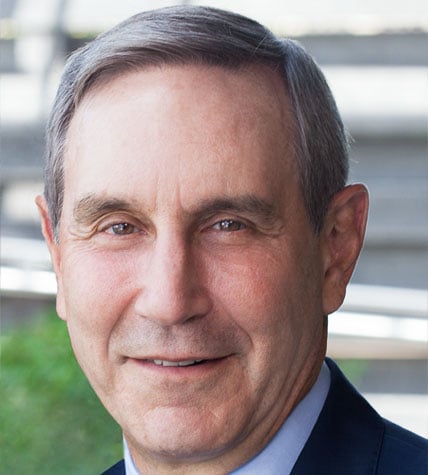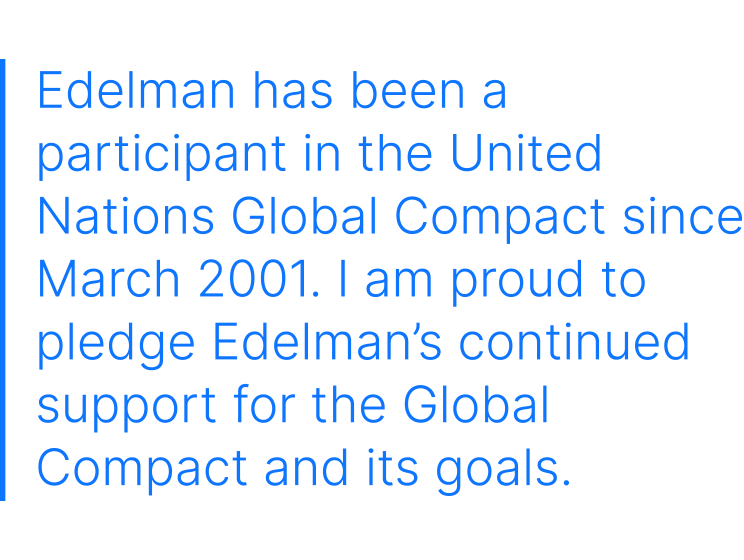 Our deep expertise about Trust increasingly underscores the expectation for business and brands to exercise their power to make societal change. The evolution from Business in Society to Society in Business means that as the most trusted institution, action is expected and required by business to earn trust. Action that drives impact. Action that builds community.
Our role in working alongside our clients to make a difference in addressing societal issues, is work we too must deliver. In a year fraught with turmoil – from war to gun violence to threats on equality – we have a responsibility to step up for our employees and communities. We're leading with action, not words, to support the needs of these challenging times.
When it comes to climate change, which we believe to be the biggest crisis facing society, this year we have:
incorporated our climate principles into our client acceptance process, focusing on clients in emissions-intensive industries;
decided not to pursue certain new opportunities, discontinued work with some clients, and applied specific parameters for ongoing follow-up and review on some assignments;
created an Independent Council of Climate Experts (ICCE) from around the world to bolster our expertise, advance the firm's climate strategies and practices, and support work to shape global climate communications for the next decade;
established a DJE Board Climate and Sustainability Committee to review our reporting and ensure accountability;
launched our all-staff Climate & Communications Training in collaboration with Columbia University's Climate School, and The Trusted Transition framework, a practical guide that outlines credible high-ambition climate actions and high-trust climate communications principles, in line with Paris Agreement goals, developed with Systemiq;
launched a major sustainability communications study with NYU Stern, to identify best practices for consumer sustainability messaging;
and our near-term emissions-reduction target, in line with a 1.5°C trajectory, has been approved and validated by the Science Based Targets initiative (SBTi).
As Russia invaded Ukraine earlier this year, we matched employee donations to the International Rescue Committee and Save the Children to support those impacted by the war, and with the continued devastation of gun violence in the U.S., we are donating our services to Project Unloaded to drive awareness among Gen Z that guns make us less safe.
With all that's transpired over the last year, the safety and wellbeing of Edelman employees is our first priority. When news spread of the U.S. Supreme Court's consideration of overturning Roe v. Wade, we introduced a benefit for employees in our health plan who need to travel within the U.S. to receive covered medical services, including abortion and gender-affirming care to ensure access to the healthcare they need.
We are also bringing the power of Edelman's work in trust to bear with our clients. From our Edelman Trust Barometer Special Report: Trust and Climate where we've found that Business lags badly on sustainability, to the Edelman Trust Barometer Special Report: Trust and Health where politics and a lack of faith in government leaves the healthcare industry in a downward trust spiral – we counsel our clients on strategies that deliver impact in advancing climate action, education that addresses vaccine hesitancy and vaccine access in vulnerable communities.
As we move forward in our 70th year, we will continue the vital role we play to drive meaningful impact as a firm, as communications advisors and as an Edelman family. The shift for business to lead is here to stay.